The all-round development process of PACKSYS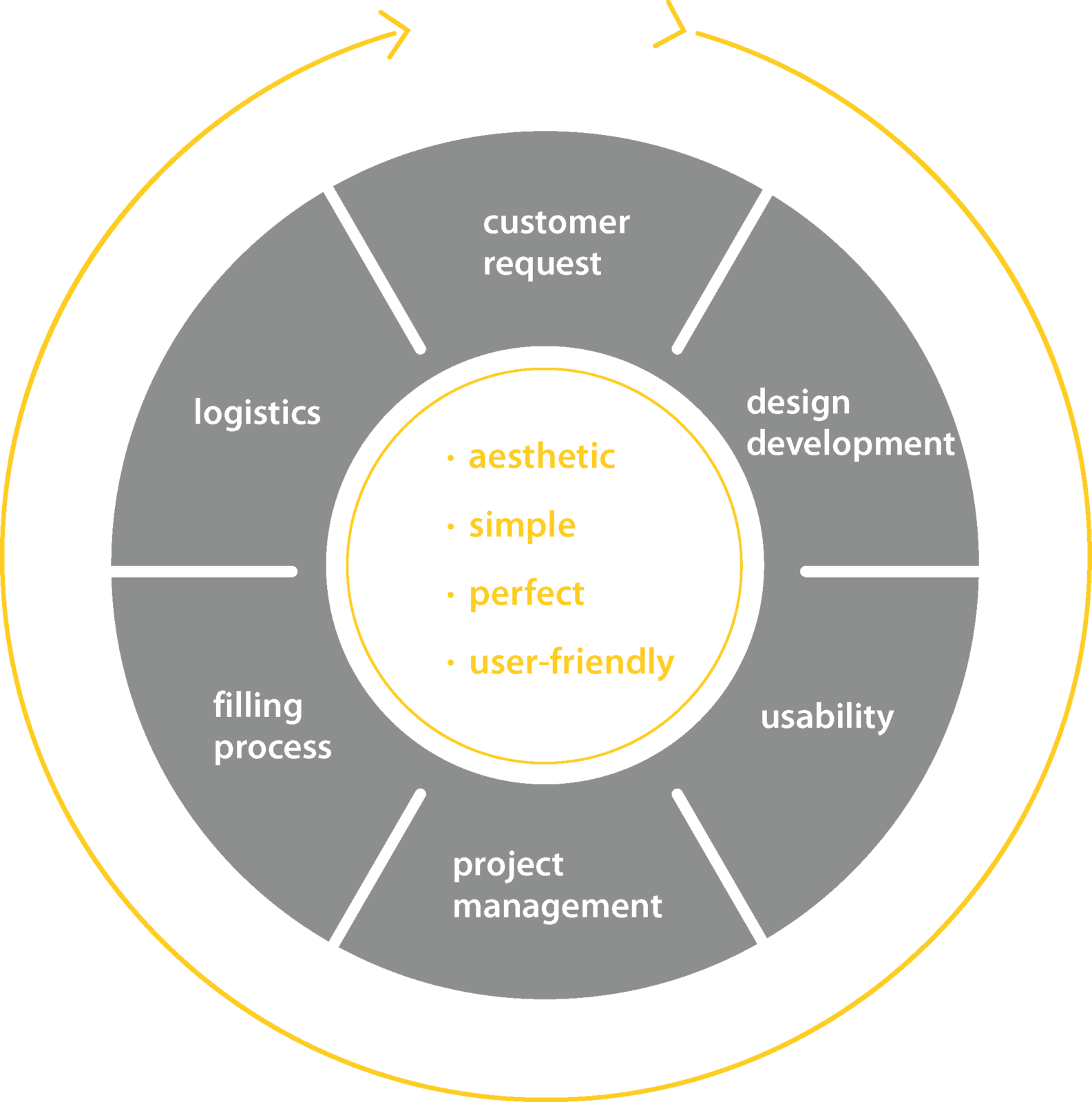 Customer request
By listening to our customers and asking them the right questions, we create the basis for products that convince all along the line.
Design deve­lopment
In the search for the perfect packaging there is often only one way out: We develop the ideal solution ourselves and then implement it professionally in consultation with the customer.
Usability

Above all, our products must function reliably and simply. If they also meet aesthetic requirements, we are talking of premium products. Made by PACKSYS.
Project mana­gement
Having an idea is one thing—controlling it is quite another. Our customers can rely on the fact that the entire development and production process at PACKSYS is precisely timed and that all the necessary individual parts become the perfect whole.
Filling process
Even before the start of any development, we forget about the filling process. In this way, we avoid unpleasant surprises and are happy to support you in integrating our new innovations into the filling process.
Logistics
PACKSYS works with you to plan the optimum delivery quantities, determine the safety stock and ensure availability just in time. Of course, we keep our stock according to the guidelines of the pharmaceutical industry (GMP).
Innovations
Our specially developed product innovations, in liquid aggregated, semi-solid and solid states, are an example of our successful work process.


Range of application
Pharmacy
Cosmetics
Food and beverage
Nutritional supplements
Chemistry and technology
Development status
Completion of series tool Q4 /2020
Sampling from March 2020
Equipment
Neck finish PP28
Glass bottle
Plastic bottle (HDPE, PET, etc.)
Flip top closure
Tamper-evident
Characteristics
clean and easy pouring
simple and intuitive handling
one-piece system
single-hand use


Airless gel dispenser

Equipment
Plastic bottle with volume of 30–200 ml
Freely selectable bottle design
Characteristics
Good residual emptying
360°-round application
Selectable barrier properties (depending on product)
Materials according to Ph.Eur.
Uniform dosing


Development status
Ready for series production
Equipment
Plastic container with variable volume
For globules size 3 (size 4 & 5 on demand)
Separate dosing plate
Colouring of individual parts possible
Characteristics
One-hand operation
Single dosing
Hygienic intake without hand contact
Clean room production
Metall-free system
Application areas
Pharmacy
Cosmetics
Chemistry and technology
Food & nutritional supplements
Development status
Samples are available for glass and PET
Dosing volume 0,5 ccm
Equipment
Wide neck jar with volume 75 and 125 ml
Plastic container (PET) with volume 75–150 ml
Plastic container (HDPE) on request
Single dose of 0.5–1.0 ccm
Cup volume up to 10 ccm (equal to 10 single doses)
Characteristics
Simple and intuitive handling
High dosing accuracy
Avoidance of incorrect dosages
High hygroscopic density
Range of application
Pharmacy
Nutritional supplements
Equipment
Container volumes for size 0 (60 pieces) and size 1 (90 pieces)
Desiccant
Tamper-evident label
Integrated ingestion cup
Actuation stop for transport
Characteristics
Simple and intuitive handling
Capsule size 0/1 (adaptable on other sizes)
Senior-friendly
Equipment
Plastic container with volume 2–5 ml
Tamper-evident label
Actuation stop for transport
Optional: counter, tamper-evidence
Characteristics
Simple and intuitive handling
Globule size according to customer requirements (actual size no. 3)
Senior-friendly
Filling
Snap-on
No alignment required
Tablet dispenser
Equipment
Glass bottle with volume 75–150 ml
Plastic container (PET) with volume 50–150 ml
Plastic container (HDPE) with volume 100-300 ml
Desiccant
Integrated ingestion cup
Characteristics
Separation of tablets
Simple and intuitive handling
Dosing aid for 
tablets and capsules
Equipment
Plastic container with volume 50–250 ml
Tamper-evidence
Characteristics
Separation of tablets and capsules
Simple and intuitive handling
Pour out of tablets/capsules provides easier removal
Any form of capsules/tablets possible
Clean and hygienic application